Crockpot recipes are the perfect dinner solution for when you're short on time.
Either that or you hate spending too much time in the kitchen. Thankfully, you don't have to be a slave to mincing, cutting, and preparing food when you've got slow cooker recipes galore to choose from.
The very best thing about slow cooker recipes is you can set them and forget them until you're ready to eat.
You can get up in the morning, put in the prepared ingredients of your choice, and set it for the amount of cooking time needed until it auto shuts off. This is an awesome time saving hack in the kitchen if we've ever heard of any.
But before you get started using your crock pot you need a few recipes to get started first. Check out some of the best ones!
Slow Cooker Cajun Chicken Casserole
Recipe Via Number 2 Pencil
Anything that has cajun in the title we're bound to at least attempt in the kitchen. And this recipe is no different. Try it out over at Number 2 Pencil.
Slow Cooker Parmesan Chicken
Recipe Via Plain Chicken
Slow cooker parm chicken sounds absolutely delicious. And you can make it without any of the usual kitchen hassle if you have a slow cooker as your side kick.
Slow Cooker Butter Chicken
Recipe Via Well Plated
Butter chicken is one of those soul food recipes you can't help but crave every now and again. Help yourself to the recipe and a few serving afterwards over on Well Plated.
Slow Cooker Buffalo Chicken Dip
Recipe Via Real Housemoms
Did you know you can make delicious dip recipes in a slow cooker. Try out this slow cooker buffalo chicken dip for dinner and see how well it does.
Slow Cooker Jambalaya
Recipe Via The Recipe Critic
The jumbo shrimp in this recipe is enough to convince us to try this particular crock pot recipe out. Who knows, it looks like a real dinner winner.
The Best Slow Cooker Chili Recipe
Recipe Via Spaceships And Laser Beams
Chili is one of the most common and easiest things you can make with a slow cooker. Spaceships and Laser Beams tells you exactly how to put it together.
Crockpot Chicken And Mushrooms
Recipe Via Kristine's Kitchen Blog
This looks like a meal we could eat every day…or at least every other day. It just looks THAT good. And it also makes for a dinner you can reheat without losing too much quality on it over night. It's a recipe worth knowing by heart!
Slow Cooker Bacon Cheeseburger Soup
Recipe Via Life In The Lofthouse
A bacon cheeseburger soup?! Yes, that's a thing in the slow cooker recipe world. And this list could not be the same without it. That's why we think it's worth making. Let us know how it goes afterwards.
Slow Cooker Cajun Chicken Fettuccine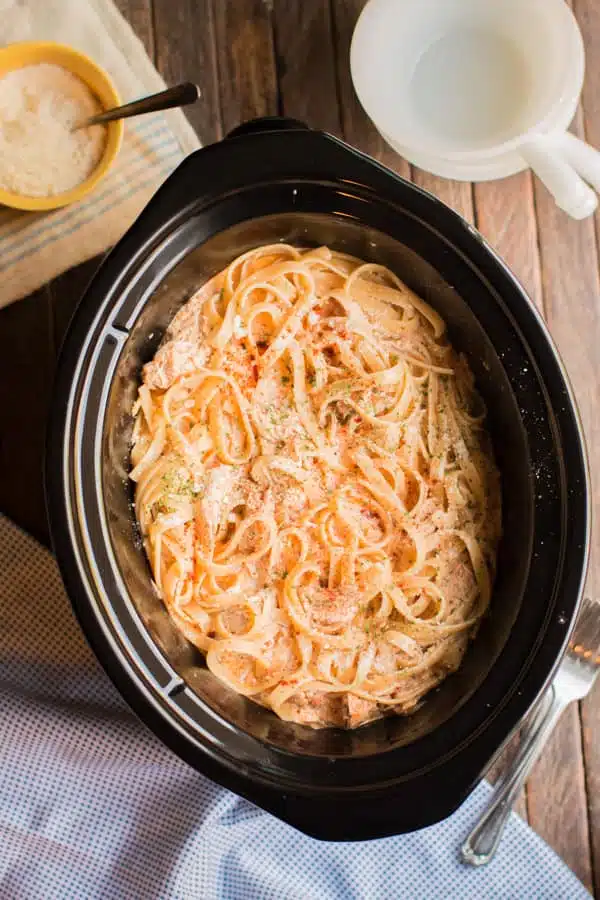 Recipe Via The Magical Slow Cooker
Pasta is another great dish worth learning to make in a slow cooker. It's bound to become a family recipe.
Sweet Potato Stew
Recipe Via Chelsea's Messy Apron
You can't go wrong with a good old stew. Especially this one from Chelsea's Messy Apron. It looks absolutely delicious!
Slow Cooker Creamy Tuscan Chicken
Recipe Via Spicy Southern Kitchen
Tuscan chicken is such a great dish that can go with a lot of things. Especially when it's with a southern twist. Get the low down over at Spicy Southern Kitchen!
Slow Cooker Lasagna
Recipe Via Tastes Better From Scratch
Lasagna can be great to make but it can also be time consuming. But not so much with a slow cooker. It's always a good idea to make a slow cooker lasagna. Why not tonight?
Bacon Cheeseburger Crockpot Tater Tot Casserole
Recipe Via Julies Eats And Treats
This tater tot casserole is one of the easiest things you can make. Especially when you're feeling extra lazy and don't really want to lift a finger in the kitchen.
Slow Cooker Pineapple Pork Loins
Recipe Via Sweet And Savory Meals
This pineapple pork loin can be a recipe you make every once in a while for dinner, or a recipe you reserve for special occasions. Either way, it's definitely a keeper and worth a try!
Crockpot Tortilla Soup
Recipe Via Spend With Pennies
It's hard to say no to a yummy tortilla soup. Especially when it's so easy to put it together. Get the recipe over at Spend With Pennies.