What's not to love about indoor plants?
They come in all shapes and sized and can make any room go from boring to lively and full of color.
The only problem is sometimes we don't know how to style our indoor plants to make them look their best.
There are tons of options and planter ideas out there you can look through, though sometimes it does take a bit of experimenting to see what works for you.
One important thing to remember about indoor plants is you need to make sure your planter has some sort of drainage system. Otherwise your plants, while they might look pretty for a time, can be subject to rot root.
To help you style your own indoor plants, here are a few ideas to spark your inner creative.
Hanging Wreath
Via Making Joy And Pretty Things
A hanging wreath can be an interesting creation for certain kinds of indoor plants, like succulents. You can always get the full tutorial over at Making Joy And Pretty Things.
View this post on Instagram
DIYing your own plant shelves can also be a great idea if you have the materials to create it. This is such a cute way to display your plants in a way that doesn't take up too much space.
View this post on Instagram
Ever thought about hanging your plants this way? It's unconventional and absolutely beautiful. With some wooden rings and some yarn there's no telling what you can come up with.
View this post on Instagram
Floating shelves are always a good idea to store not only plants but other decorative pieces around your home that'll make your space look more alive.
View this post on Instagram
And of course, this list couldn't be complete without using some macrame hangers to create a cluster of hanging plants you can rearrange any time.
Via Soopush
These wooden plant hangers are absolutely gorgeous and have a beautiful rustic look to them. If you're going for more of a boho home decor look, then these are a must try.
This draping hanging plant can be an awesome way to fill in an empty corner of your home. The planter gives it so much more personality than if you tried to hang it in the planter that indoor plants usually come in.
Via Lialip
These tiered baskets are a genius idea for displaying your hanging indoor plants. When installed, it's sure to be an eye catcher. Though, it's always good to remember to install your plant displays near filtered natural light for best results.
Via Jungalow
This wooden hanging planter from Jungalow is to die for it's so pretty. It's sure to add a modern touch to any room you put it in.
Via Stitched Modern
These days, wooden planters seem to be a thing. And that's no surprise since they seem to look so elegant and clean. The best part is you can mix and match regular ceramic planters with wooden ones to create a personalized look.
Via Naver
Here's another cute way to hang your plants: Make a planter out of sticks and tie a sturdy hanging string to one end. There are endless possibilities to what you can do.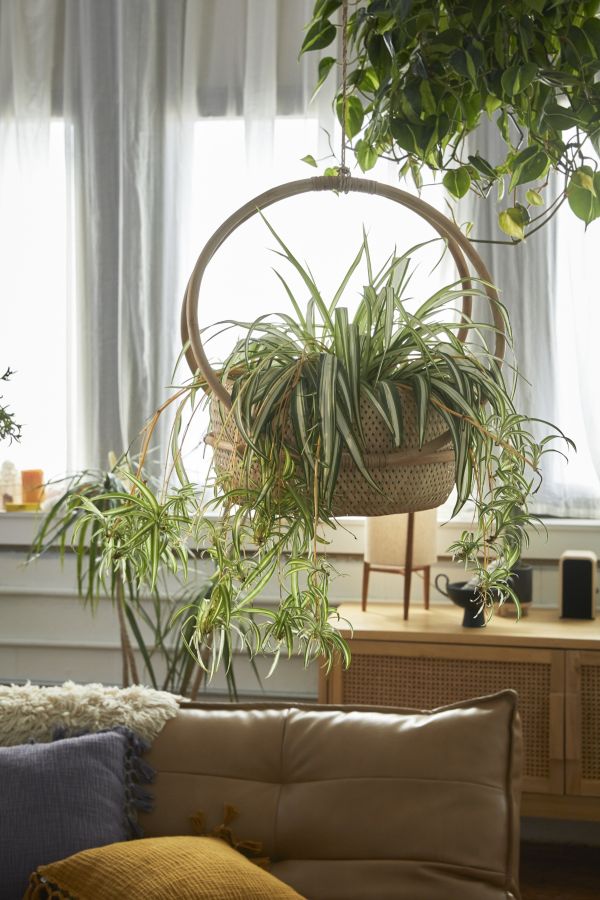 Via Urban Outfitters
You can also use something as simple as a basket to hang your plants. Perfect if you're going for a rustic look.
Via Bloom Events
If you want to get really creative try planting some succulents in a light bulb with some twine around it for hanging. It'll look beautiful and add a bit of DIY creativity to your space.
Via A Beautiful Mess
This planter idea by a beautiful mess shows you how you can create amazing indoor plant displays yourself with only a few tools and a bit of patience. Make sure to see the full directions on their blog!