Hands down, there's nothing like a healthy and oh so sweet smoothie recipe to start your mornings.
They're filling, healthy, and give you that sweet kick of goodness in the morning you need to wake up. Healthy smoothie recipes are all over the place, and there are endless combinations you can make.
Including chia seed, kale, flax seed, and veggie mixes that can taste absolutely amazing.
That's why today, we've brought you some of the BEST healthy smoothie recipes out there to get your healthy smoothie creativity running.
Let's look at each one!
Berry Vanilla Layered Chia Seed
Via Feel Good Foodie
A berry vanilla chia smoothie sounds like music to our ears. Berries are full of antioxidants and they're a no brainer when you're making smoothies.
Triple Berry Smoothie Jar
If berries are your favorite, then this smoothie is a definite must try. You don't have to be a professional chef to make sure you're creating smoothies that are a dream to your taste buds. All you have to do is visit The Suburban Soap Box for the full recipe.
Chia Acai And Strawberry Layered Breakfast Jar
If you want to get more creative with your smoothies, then layering is a great way to do that. This makes sure you have plenty of texture in your sweet concoction and helps you vary your smoothie recipe every morning. Check out how to make THIS beauty over at The Awesome Green.
Neopolitan Smoothie
Via The Jewels Of NY
Want to get a little healthier? It might be as easy as switching out your neopolitan ice cream vice and making a neopolitan themed smoothie instead. It's sure to add some sweetness to your life with much less calories.
Granola Pots With Blackberries
Via Lazy Cat Kitchen
This granola pot is a beautiful creation of lots of breakfast ingredients. While its not your conventional smoothie it does include all the conventional ingredients of one. You can choose to blend them or just pile them like Lazy Cat Kitchen does.
Rainbow Smoothie
When you're trying to have fun with your smoothies then a rainbow smoothie is just the one to make. Best of all you don't need food coloring to make it successfully. All your fruits and veggies are already beautifully colored and ready to be blended.
How awesome is that?
Strawberry Colada Smoothie

Via Cooking Classy
Skip the alcoholic pina colada and try the strawberry colada for a change. By the looks of it it won't disappoint a sweet craving, especially if you're trying to ingest less sugar.
Banana Breakfast Smoothie
Everyone, and we mean everyone, can benefit from a good old banana breakfast smoothie. Marsha's baking addiction shows you how to do it over on her blog!
Frozen Berry Smoothie
When you freeze your berries before you blend your smoothie it gives it a nice and icy texture that can be super refreshing on hot summer days. Try it out and see! Add some extra ice cubes for extra texture!
Healthy Strawberry Smoothie With Mango
Via The Seasoned Mom
Strawberry and mango make a dream team when it comes to delicious smoothie pairings. You can always add some extra veggies or even nuts for the extra kick of nutrition in the morning or as a midday snack.
Tropical Sunrise Smoothie
Via Mom On Time Out
A tropical sunrise smoothie is a smoothie that sounds like you just NEED to try. If you love mango, coconut bits, and vanilla yogurt then this smoothie recipe is a must try.
Island Mango Goji Smoothie

If you're wanting to try a different smoothie that you might not have everyday, try this island mango goji smoothie. It's packed with nutritional goodness that is sure to nourish you from the inside out.
Thick Mixed Berry Smoothie Recipe
Via Curry Trail
Thicker smoothies tend to keep you fuller for longer. So this smoothie is perfect to make and take on your commute. By the time you reach your destination you've finished it and ready to take on your day on a full stomach.
Raspberry Lime Smoothie

A raspberry lime smoothie is the way to go if you love zesty drinks. Raspberry is the perfect tart addition to a zesty mix for a good boost to your day!
Smoothie Bowl
Let's face it. A smoothie bowl is the same thing as a smoothie…except its in a bowl. So you bet we've included a whole section on smoothie bowl recipes for you to try.
Hawaiian Berry Smoothie
If you're craving pineapple and have some berries in your fridge this is the perfect smoothie to try. Isn't it so pretty how they layer each fruit color?
Mango Banana Green Smoothie Bowl
Via Amy Le Creations
There's nothing like creating a green smoothie bowl to make you feel like you're eating extra healthy. Healthy green smoothies are all the rage lately. You can always try to change it up and go for a smoothie bowl instead.
Mixed Berry Detox Smoothie Bowl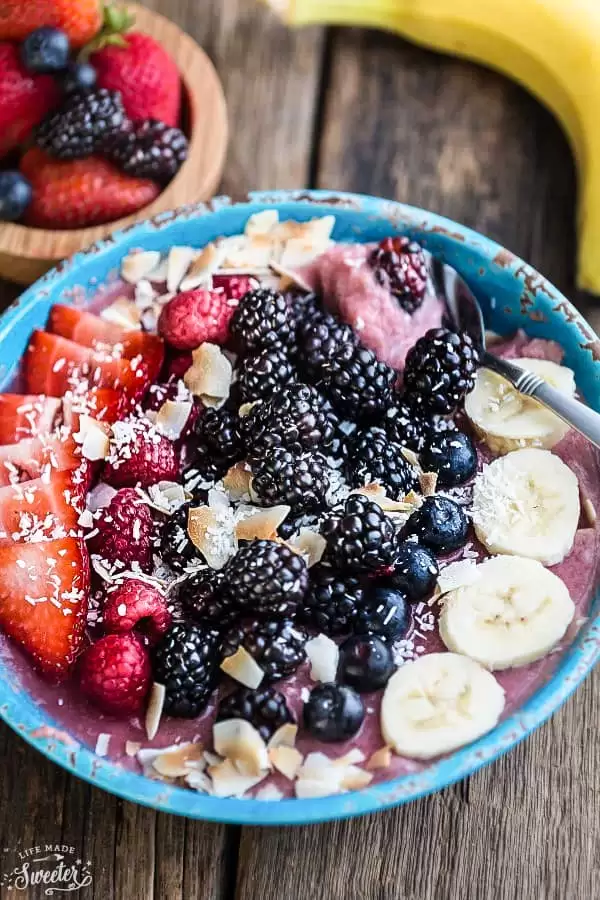 Berry bowls are another smoothie recipes you might want to add to your to-do list as it is an easy smoothie recipe that anyone can make. Just make sure you garnish with coconut shavings for extra texture.
Berry Almond Smoothie Bowl
Via What Molly Made
Berries and almonds make a dream team combination and help you make sure you're getting your daily proper nutrition. Adding bananas makes it more flavorful too!
Raspberry Coconut Smoothie Bowl
This raspberry coconut smoothie bowl screams refreshing and is especially worthy of being a summer cool down snack. Keep in mind that easy smoothie recipes aren't just meant for breakfast.
You can have them at any time of the day.
Raspberry And Cacao Smoothie Bowl
Via Spicy Ice Cream
Raspberry and Cacao seem like the ultimate smoothie bowl blend that you don't hear about everyday but that you still want to try out of curiosity. You definitely can! Spicy Ice Cream has the full recipe.
Strawberry Ginger Peach Bliss Bowl
Via Blissfull Basil
It's no secret that ginger has lots of health benefits. One great way to add it to your daily diet is incorporating a bit to your smoothie bowls. You'll get the added nutrition and the added kick of extra flavor too.
Grapefruit Breakfast Smoothie
Via Frugal Momeh
While the taste of grapefruit might not be for everyone, we're sure there are plenty of fans of this grapefruit breakfast smoothie.
Especially if you love zesty and tangy foods!
Coconut Banana Oats Bowl
Now here's a combination you don't hear often, a coconut banana, and oatmeal bowl. If this doesn't scream perfect breakfast smoothie bowl that is also delicious we don't know what does. Check out the full recipe at Half Baked Harvest.
Apple Pie Smoothie Bowl
Via Fit Foodie Finds
This smoothie bowl almost seems like a slightly healthier variation of the dessert! And it looks like a delicious combination that we'd eat up in a minute's time. If you love cinnamon, apples, and all things peanut butter, this bowl is for you.