Small indoor plants can be an adorable and life giving addition to any corner of your home. 
They're great if you don't like high maintenance plants but still want some greenery in your space. Now, contrary to popular belief, there are plenty of small indoor plants you can adopt that don't have to be full on big plants (like a birds of paradise for example).
There are plenty of succulents, snake plants, or rubber plants that you can style and keep on your desks, coffee tables, or shelfs. Here are a few to get you started!
17 Small Indoor Plants And Planter Ideas To Liven Up Your Apartment
Rubber Plant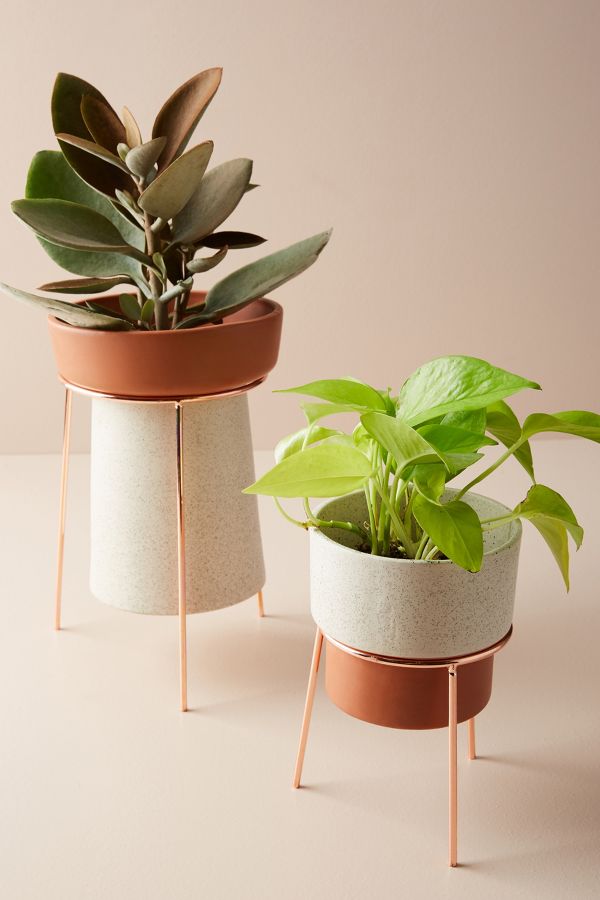 Via Anthropologie
One of the best things about small indoor plants is that it can be very easy to plant them in a planter that you like. With bigger plants, you usually have to invest in pots that can be pricey and heavy.
With small plants you can have lots of fun figuring out what container you'll plant them in, which can even be a mason jar.
Snake Plant
Via DIY Playbook
The snake plant is one of the easiest plants to grow indoors because they don't require much sunlight to grow healthy. You only need to make sure they're watered every so often. How well you care for them will determine how tall they're grow.
It's a great and simple indoor plant to have in the favorite corner of your house.
Succulents
Via Erin Made This
Succulents are also one of the best plants to keep as small indoor plants that you can decorate your whole house with. This small cement planter is a great DIY idea that you can use to plant your favorite small plant.
Rosemary
Via Eclectic Trends
Rosemary is a great small plant to keep because you can use it as a small indoor plant to decorate and use it to season your favorite foods when you're cooking. It's easy to keep indoors and maintain.
Small English Ivy
This small English Ivy is beautiful and only requires that you water it and give it indirect sunlight so it grows healthy. You can propagate a smaller English Ivy plant from a bigger one and make it a smaller plant that you can plant in a smaller pot.
Aloe Vera
Via Lines Across
Aloe Vera is another great small indoor plant that you can plant and place on your favorite shelf. Aloe is a beautiful plant that can have lots of health and beauty benefits.
Small Fiddle Leaf Fig Plant
Via The Painted Hive
Fiddle leaf fig trees are a great small indoor plant to keep in your home, especially if you know how to propagate the fiddle leaf fig plant
Peace Lily
Peace lilies are some of the easiest and prettiest indoor plants to have, especially because they don't take too much sunlight to thrive, and if you take care of them well, they'll bloom white flowers. You can get smaller Peace Lilies at places like Lowes or Home Depot, especially during the summer.
Small Fern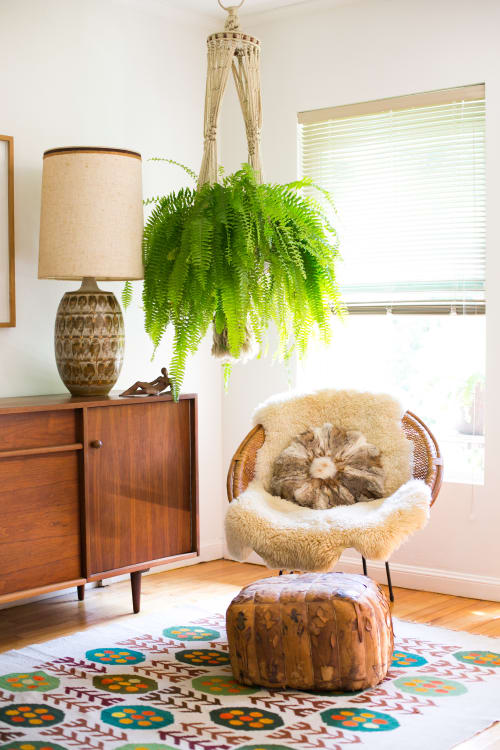 Ferns can be great indoor plants to keep in your house if you choose a smaller size. They're great for hanging either on your porch or sticking it in your favorite corner or table as a centerpiece. They do require that you keep them watered often.
Swedish Ivy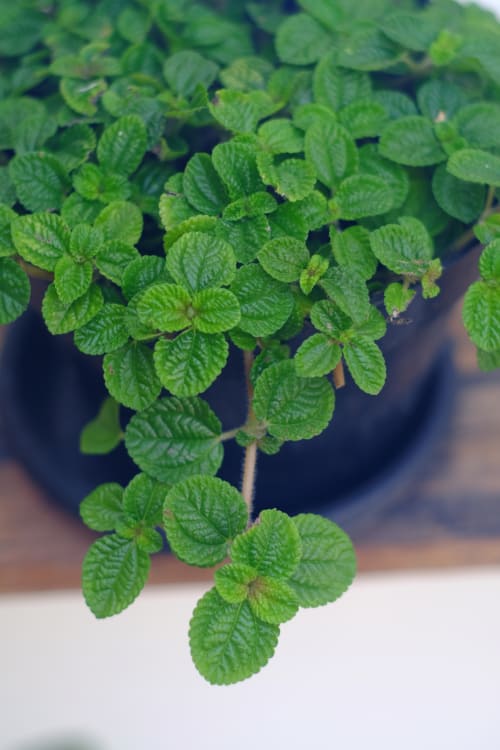 Swedish Ivy is another great small indoor plant you can successfully decorate your apartment with. The small green leaves make for a nicely shaped and textured plant that you can use to bring some much needed greenery into your home.
Hanging Golden Pothos
Via I Came To Dance
A golden pothos plant is a great small indoor plant to take care of if you're looking for an easy yet beautiful plant to decorate your home. They're also pretty easy to take care of and you don't need to add a lot of water to it to keep it alive.
Golden Plant Hangers
Via A Beautiful Mess
One great way to hang your small indoor plants is by using hanging planters that can take up less space because they hang from the wall or the ceiling.
DIY Tall Planter
Via A Beautiful Mess
You can always DIY your own tall planter and add two small indoor houseplants to it.
Hanging Wood Planter
Via Jungalow
Here's one hanging planter idea you don't see often. You can DIY your own wood planter and hang it from the ceiling. Wood planters are a great way to display your small indoor houseplants.
Tree Stump Planter
One cool way keep your small indoor plants is to plant them in a hollowed out planter. Not Just A House Wife tells you exactly how to create it and add the hairpin legs for good measure.
Mini Hanging Succulent
Via Natalme
This hanging cactus planter is one of our favorite small indoor plant ideas in this list. It is a creative take on your classic small planter and makes for an interesting decor piece for your home.
Hanging Herb Planter
Via Grillo Designs
A hanging herb planter is a great small indoor plant arrangement to keep in your apartment that won't take up too much space or be too high maintenance. Having a herb garden in your home is awesome because you can use those herbs to cook your favorite meals too.
Small Indoor Plants Are A Genius Decor Idea
You don't have to do much to maintain small indoor plants and you can get really creative in how you choose to plant and display them. You can also get a lot more small plants because they tend to be a lot cheaper.
Join the conversation and tell us which plant was your favorite small plant idea!
If you liked this post, you'll love these gorgeous DIY Ideas:
11 Strange Indoor Plants You Haven't Heard Of- Weird Indoor Plants
FREE Printable Art: 19 Ways To Add Some Personality To Your 'Yawn' Walls
Upcycling Ideas— 15 Ways To Upcycle Furniture For A Brighter Space
Boho Home Decor: 23 Boho Ideas You Need In Your Room Like, Right Now
19 Easy Indoor Herb Garden Ideas To Add To Your Kitchen For Year-Round Sprouts
17 Pastel Home Storage Ideas To Keep Your Apartment Bright + Organized
15 Home Decor Ideas To Liven Up Any Room
15 Hard To Kill Hanging Plants That'll Make Your Home Instantly Beautiful