Who doesn't appreciate some good home decor ideas?
Especially when it makes your home look like it took a million bucks to decorate. When really it was just you and your own two hands with a dash of creativity and a passion for diy projects.
Needless to say there are tons of ways to arrange and add texture and color to your space, but it doesn't hurt to draw some inspiration from some fresh and new ideas you can incorporate with your own.
If you have a small living space, then DIY home decor might just be right up you alley, because its easy and cheap to create beautiful pieces that can make your home feel more like, well, home.
Geometric Wall Art
If you're looking for home decor ideas on a budget, then these geometric wall art patterns are perfect for that. Too often, when it comes to home decor diy ideas, we tend to not think outside the box.
This is a great project to help you think and create something different courtesy of A Kailo Chic Life. Learn how to make it over on her blog!
Giant Pegboards
Via Vintage Revivals
Did you know pegboards don't just have to sit in your garage for you to hang tools on? They can be used in your next DIY idea! Vintage Revivals does a gorgeous job showcasing how you can use peg board to arrange your indoor plants and small mementos.
Hanging Flowers
Via Kwdesignblog1
Bet you've yet to think of creating a chandelier out of pure hanging flowers. This gorgeous arrangement is a great way to liven up a room elegantly without going overboard.
It works whether you're trying to decorate a room in your home, or if you're using it to decorate your next party.
Cork Wall Art
Via Green With Decor
Corks can be used in lots of ways, including creating a literal cork board where you can hang your most important reminders. Green With Decor tells you exactly how to put it together.
Hanging Shelves
Via Etsy
Hanging shelves seem to always be a plus in just about any room in your home. They add both functionality and decor to any wall and can be home decor life savers that are simple to put together.
Pom Pom Vase
Via Crafts By Amanda
If you come here often, you know we love pom poms! And this pom pom arrangement is no different. It makes for a great living room piece that can bring in color and brightness instantly. This is an especially great home decor diy idea if you have children!
Colored Crate Shelves
Via Hgtv
Colored crates are not only beautiful to look at, they also help you keep your space organized. It's a perfect home decor idea on a budget and doesn't take too long to put together.
Hanging Doilies
Via Love Grows Wild
Turns out doilies aren't just for your grandmother! They're for your bedroom decor too! There's always a tasteful spin you can add to just about any thing you decide to decorate your house with. Why not try doilies for a change? There always tend to be a few stray ones at second hand stores.
Hanging Mason Jar Vases
Via Awesome Home
Mason jars will forever be one of our favorite decor items. They're super versatile and simple to create things with. These hanging jars are no different. See how to put them together at Awesome Home.
Hanging Plates
Via Hgtv
Ever thought about hanging plates? yeah, us neither. But it turns out to be not too shabby if you ask us. Once you arrange some beautiful plates together and hang them on your wall they're sure to be eye catchers.
Wooden Plant Holders
Via Craftifair
Tiny indoor plants seem to be all the rage right now. And here's a creative way to get them up on your wall. Make some wooden hanging plant holders and call it a day!
These hanging plants are great for decorating any room in your house and making it feel like a home.
Fairy Lights Picture Organizer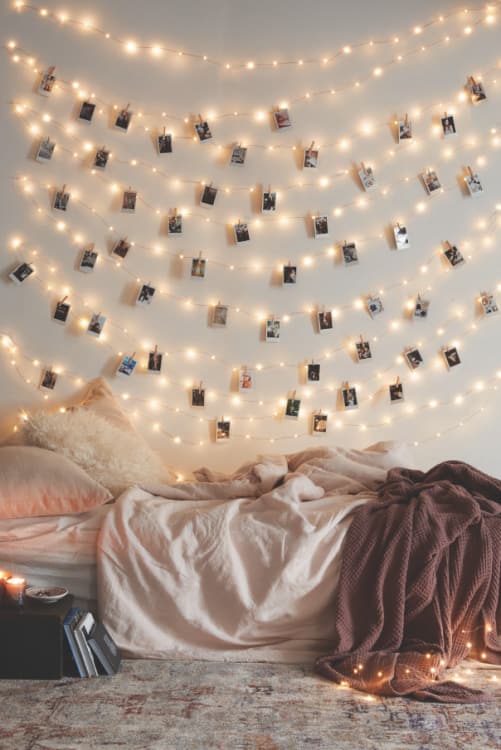 Via Urban Outfitters
This genius idea from Urban Outfitters is a brilliant home decor diy for keeping your long time memories out on display.
All you need are your favorite set of lights, a few pins, and a couple of your favorite pictures.
Framed Wall Art
Printable wall art makes for some of the easiest and budget friendly diy ideas that you can put together without spending tons. And if done right, they can look absolutely incredible.
Hanging Planter
Via Vintage Revivals
There's no one correct way to hang your plants. And this hanging wall planter by Vintage Revivals is proof of that. It's a lovely way to arrange all your favorite mini plants all in one place without taking up too much precious space.
If you liked this post, you'll love these gorgeous DIY Ideas:
11 Strange Indoor Plants You Haven't Heard Of- Weird Indoor Plants
FREE Printable Art: 19 Ways To Add Some Personality To Your 'Yawn' Walls
Upcycling Ideas— 15 Ways To Upcycle Furniture For A Brighter Space
Boho Home Decor: 23 Boho Ideas You Need In Your Room Like, Right Now
17 Small Indoor Plants And Planter Ideas To Liven Up Your Apartment
19 Easy Indoor Herb Garden Ideas To Add To Your Kitchen For Year-Round Sprouts
17 Pastel Home Storage Ideas To Keep Your Apartment Bright + Organized
15 Hard To Kill Hanging Plants That'll Make Your Home Instantly Beautiful